Black is beautiful & hot!
I am obsessed with black. I am crazy about black. Ask my family, ask my friends, ask my wardrobe. They will have stories to tell about my black obsession. Well, I'm married to purple and its shades. But black happens to be my first love whom I'll never let go! 😀 Hope you get it. And so, when blogadda came up with a prompt on black color, I couldn't stop myself. Who else – better than a girl who has around 15 different black dresses in her wardrobe – could talk about black?

When I see something that is black & beautiful, I am like:


Once, I decided I wouldn't buy anymore black dresses. I went to buy a skirt, searched for colors I don't have, picked up a yellow one, came home, tried it on, clicked photos, posed with it for around 2 hours, was glad that everybody liked it, and later realized that it was BLACK BASED WITH YELLOW PRINT. 😀
Finally, the truth hit me. I wasn't the one choosing black. Black chose me. After that I decided I'll never say 'no' to black. So, when I was asked to blog about 5 black things I desire, here I am! 🙂
1. I have been stalking stuff on Myntra for the past one year. And, not surprisingly, I do have a couple of blacks on my wishlist there. One being, these Black sandals.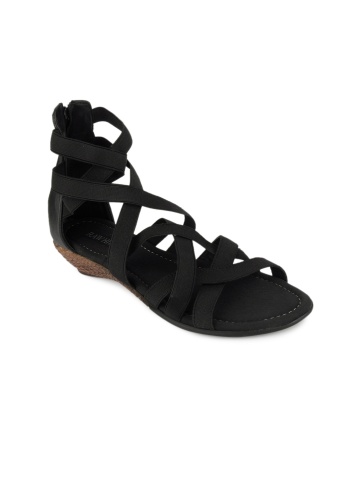 Seriously, do you want to ask why I love it? Look at her. I mean, tell me one person for whom she wouldn't suit. Those straps would hold snugly onto anyone who wears her. isn't she gorgeous!? I desire her from the bottom of my heart.
2. Again, from Myntra, I had a huge number on my wishlist. This black & gold Folklore Kurta kept me hooked. But I sacrificed her so that my sister could buy something else. So I have been stalking this one, ever since. Now, it has been quiet sometime since she has been out of stock. Still, I stalk her. I keep looking for her. I am not sure whether I'll buy her because well, the weather isn't well at my end. But I am determined to stalk her until she becomes mine. 😉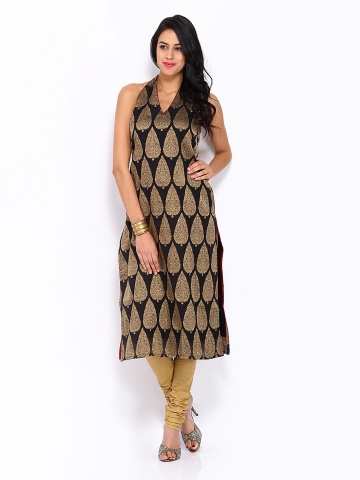 3. Fastrack watch – A couple of years back, I went to buy a watch for a friend who was getting married. It was a gift on behalf of my office. That is where I saw her. And it was love at first sight. She was black, I loved the strap, the look, the style, the little keys and symbols. Had I chosen a watch for myself, I would have chosen her. And so, I thought of gifting her to our friend on her wedding. Needless to say, she loved the watch. Even now, i dream of her. 4. A sleek black phone comes next. I am not so familiar with the best phones and features. But I'd insist them to be black in color. Because, I believe accessories look sexy when they are black. And I like them black ;). So no more explanations on this one. Who wouldn't love a black, sleek and shiny phone?
5. 5 is too small a number. My desires are more than that. But now, to end with the list, again, I have clothes on my mind. This time it is a tight fitting knit tunic top that I was again stalking! The moment I see it, I just look, look and look. What else could I do? 😀


I have deeply desired for black boots, this black kurti (ahh.. call me a stalker), this type of snug sweater, nail colors, best of gel eye-liners and mascara etc many more. Black is an inexhaustive color. And also a shunned one. I get hurt when people say it is inauspicious. There is discrimination everywhere. And whatever the reason, whatever the occasion, black shall top my list always. In love with black! 🙂
PS: I love Sirius Black too 😉
Image courtesy:
myntra.com
zivame.com
 This post is a part of #WhatTheBlack activity at BlogAdda.com