Day 4 – Most Emotional Death
30 Days Book Challenge – Day 4 – Most Emotional Death

Spoiler alert!!! If you haven't read Harry Potter or The Fault in Our Stars, and intend to read them, please skip this post since you lose the whole point of reading them once you're done with my post.
It is humanly impossible for me to stick to one emotional death. So here goes plenty…
1. The Fault in our Stars – Augustus waters (Gus)

Because it was unexpected.
2. Harry Potter – Sirius Black
Until the very end of the book, I thought he will come back. :'(


After I read this part, I clenched my stomach for a long while and sat silently. But, THIS was what was happening inside me.

3. Harry Potter – Albus Dumbledore
He said, 'Severus, please.' We didn't know what it meant until the last book.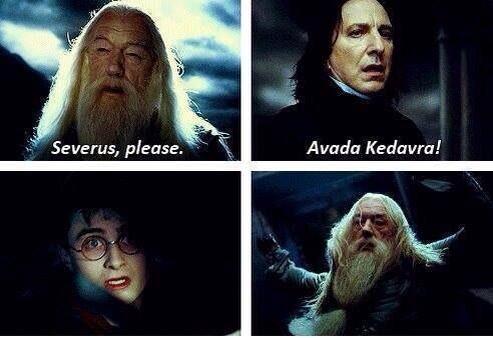 Dumbledore was blasted into the air. Then, he fell slowly backwards, like a giant ragdoll over the battlements and OUT OF SIGHT.
(And I wept…)
4. Harry Potter – Dobby

And  he tried… again… and…
5. Harry Potter – Fred Weasley
Fanfics is what made Fred's death so dramatic.


That is about it. 🙂