Day 30 – Many Questions, One Answer
30 Days' Book Challenge – Day 30 – Many Questions, One Answer
I had saved the last post for a reason. I prepared this list of 30 Days' Challenge from various prompts. Since you all know that I am a crazy Potterhead, it would be only obvious that for most of the prompts I came across, the only answer I had was Harry Potter.
So I had a tough time finding prompts that wouldn't just give the same answer and kept this post for the last. In this, I will do the opposite of what I did all these days. I normally listed the books that I thought suited well for a prompt. But here, I will list all the prompts for which I believe Harry Potter Series is the answer.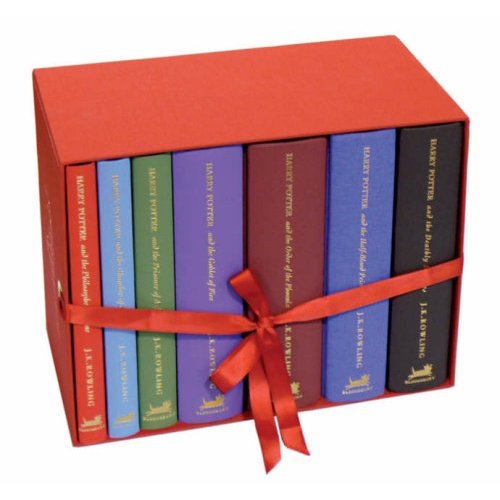 And so, the 30th Day of the Challenge is in the name of Harry Potter. Here goes the list:
A Book that I have read more than 3 times – Probably this is why I haven't read many books. Every time I get a chance I read Harry Potter books. They are so loaded with twists and interconnections that I find new things every time I read them.
My Favorite Series –  Harry Potter
Favorite book turned into a movie – But the movies have only 20% of what is in the books. They don't talk about the characters in depth. You can never understand Lupin, James, Lily, Ron, Luna, Hermione, Snape, McGonagall, Dumbledore, Malfoy, Hagrid… what am I doing? I can't list them all. You don't know any of the characters in detail unless you've read the book.
A book that you wish more people would have read – All the seven books. There is a lot you're missing if you haven't read them.
Favorite book universe – Hogwarts
Your Hogwarts house – Hufflepuff.
Favorite platonic friendship – Harry and Hermoine
Favorite fantasy book – No guesses!
My comfort books – I am not sure what this means. But yeah I am more than comfortable reading Harry potter. 😀
If any of you are planning to read the series for the first time, a word of caution. The first book is a bit dragging because it takes time for the setting to sink in. Do not stop reading until Harry reaches Hogwarts. You won't stop after that.
It is amazing, how a little baby with a scar became such an important part of my life.


However, the other day, a friend told me that he thought that Harry Potter and the Order of the Phoenix was overrated. I believe many people think so. Here is what I feel. The Harry Potter series is loved by all and the rating goes to the entire series. Almost all the HP fans have agreed that this book was a bit boring (including me). So, it truly cannot be called overrated. 🙂
Finally, the 30 Days' book challenge ends. I can't say I completed the challenge in 30 days. But I did post everyday. 😉 I was unwell for a couple of weeks and yet I managed to post. 😛 Many of you don't know that I started this blog in 2010 when I used to have only about 12 posts a year. Last year on wards I picked up pace and here I have 30 posts a month! I'm impressed!
I got many blogging friends through this challenge. I came across many book lovers, I learnt more about the books I should read (And I shouldn't). Many thanks to all of you who encouraged me to complete this.
Lots of Love
Rangelz 😉