Sisters' Day Out & The Creepy Guy
The story starring D (my sister) and I continues. Since there is a huge gap of 9 years between our ages, we weren't together for long. I left for my high school when she was in her 2nd standard. A tiny doll that she was, it was very difficult to be away from her. When I was back after 5 years, she was in high school busy with her studies, tuitions, extra activities, entrance coaching etc. By the time she gave her 10th boards, I was giving my CA finals. When I was free, she was preparing for her 12th boards after which, she was free and I was  rewriting my finals. You know how bad this was.
For the last couple of months both of us have been free for the first time and we decided to manifest our Sisters' Day Out. After years of planning,
100 Happy Days – Day 41
Happiness is a day out with your sibling.
I woke her up and asked her to get ready for the day. Our first stop was the Gold Souk Mall. Google told me that they had gaming there. However, when we reached there, we got nothing. We started off to the next mall nearby – Lulu.
We went to the sparky's gaming area searching for a two player game. We decided to play Air hockey.
Air Hockey
It consists of a smooth surfaced table, 2 mallets that act like bats and a puck that acts like a ball. All you have to do is to pocket the puck into the opponent's side socket which wins you a goal. Obviously, your opponent would try to defend the socket. The fun in the game is due to the smooth surface. The puck just runs around the table, ricochets of the side and you really can't predict which direction it would go to. Here is a sample Air Hockey table.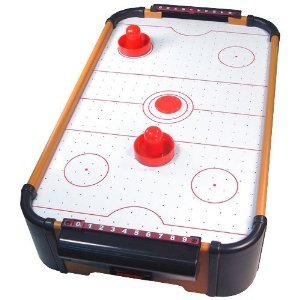 We did not know how long we had for the game to end. The score was 4-3 where I was the one with 3 goals and finally, I pocketed the puck again. But by then the game was over and the scores didn't change. D claims to have won. But technically it is a draw since neither of us knew that it was over. (C'mon! support me please).
Movie and Lunch
Next on our agenda was a movie. I know it has been a long time since its release, but we badly wanted to watch it. So, we walked into an almost empty theatre to watch Tanu Weds Manu. You know what!? Screen 2 in PVR has got purple seats!!! 😀
Bowling
Since we had our lunch in the theatre, the next planned activity was bowling. Oh! I love bowling and I have been wanting to take my sister for the same. We started towards Central Square Mall since the rates are low there.
All I know about bowling is that I must try to knock down the pins using the ball. And of course, stepping on to the lane would be foul. Keeping these in mind, I began the battle. No matter how many times I told the ball to go straight, he kept going towards the sides. Sometimes he would give me hopes by going right through the center of the lane for a while and suddenly move leftwards. Leftwards! Why always leftwards?
The happy part is I bowled a strike once, when all the pins were majestically knocked off. My lovely sister didn't notice my moment since she was having a nice chat with the staff there. :/ In any case, I did bowl a strike! 😀
After the game, we found a beautiful photo corner where I pestered D to take my pictures. I love posing and she yields when I ask her to take pictures. Here is one where I am pretending to walk into the woods. 😛
Things were going as we had planned and so we decided to give some clothes for stitching at Convent junction. After this, we visited the library. Trust me! It is very hard to leave a library with the scent of old books and racks of thousands of written words. We took Dan Brown's Inferno and Markus Zusak's Book Thief and somehow got ourselves out.
Next, we went to the Marine Drive and sat there for a while. I never get fed up of that place with all the trees, the water and the breeze. We walked up the rainbow bridge and then returned. Here is a view of the waters from there.
Chaat and some shopping
It was already 6.30 PM and G, my best friend was waiting for us at convent junction. We hurried to meet him and the 3 of us had chat – Panipuri, samosa chat and sev puri. He had promised to accompany us to broadway for some purchase. We traipsed down the streets of "broadway" which is named ironically since only one car could go through the roads at a time.
After a long, happy tiring day, we reached home around 8.30 pm with a full stomach, a happy heart and some lovely memories.
The Weirdo
Oh! That reminds me. At Lulu, there was this creepy guy walking around and staring at us. My sister kept telling me that he looked so weird. He slowly walked towards the escalator. As he was being carried up, he kept looking at us. While he walked away, his eyes were still on us. Once we reached Central mall, we saw him again! D kept saying that it was so scary. On the other hand, I thought it was exciting! Like in fairy tales, a weird guy who follows us and then tells us that we belong to some other world. That, it was time for us to fulfill our destiny. I kept thinking along those lines.
Anyway, that was the end of him. I mean even if my hunches were true, I cannot tell you right? Because the other world is always hidden from human beings. I won't be able to reveal the truth. 😛
The creepy guy did spice up our day! 😀