The Chennai Rains – A Positive Note
100 Happy Days – Day 65
Happy to Be a Part of a Dynamic Youth
There has been immense loss of lives and property due to the floods in Chennai. We, being in the neighboring state, could actually understand the gravity of the situation. You begin to understand a situation only when you or someone close to you are affected by it.
The Hands and the Hearts of Youth
While the situation in Chennai worsened, people from different parts of the country came forward to extend their support. All of a sudden, my facebook feeds were flooding with call for help and support. As I had mentioned in an earlier post, in my hometown, Ernakulam, teams such as #anbodukochi and #CochiHelpsChennai had collection locations at different points. People could contribute supplies or cash. These supplies were brought to a single location from where, they were sorted into kits, packed and sent to Chennai. Similarly, many other districts in Kerala and also other states in the country did their best to extend their help.
The Fictional Heroes Became Real Heroes
I came across news where celebrities were contributing fund for the cause. A number of celebrities including AR Rahman, Shah Rukh Khan & Rajnikanth contributed huge amounts. Actor Sidharth kept providing transport services, responded to help requests and was in action throughout. Here are some of his tweets that earned a lot of respect:
He arranged vehicles for delivering food packets.
If you can organise food packets in chennai please contact me. We will have it picked up and delivered. Batches of 50-100 packets. #TNflood

— Siddharth (@Actor_Siddharth) December 2, 2015
And water.
Urgent. Need 1000 water packets. Please contact us immediately. #ChennaiMicro #TNflood

— Siddharth (@Actor_Siddharth) December 2, 2015
He gave them strength and hope.
We have more vehicles tomorrow and we have a bigger team. It will be a better day. Stay strong #Chennai Please help us. #chennaimicro

— Siddharth (@Actor_Siddharth) December 2, 2015
He encouraged the volunteers, he also inspired the rest to come forward.
#ChennaiMicro fed 20000 people today. Very proud of our volunteers. They outdid themselves. Tomorrow will be better. We need your support.

— Siddharth (@Actor_Siddharth) December 3, 2015
He assured them that he will be there and all they had to do was to call him.
Tweet hashtag #cuddaloremicro I will be there the whole day tomorrow with supplies. Mention areas. Requirements. #verified Ngo support.

— Siddharth (@Actor_Siddharth) December 5, 2015
I had to pick a few from hundreds of tweets he had shared. You can head over to his twitter account and see for yourselves. The efforts he took.
Our Saviors & Protectors at their Best
The Indian Army was there as always to rescue thousands of people.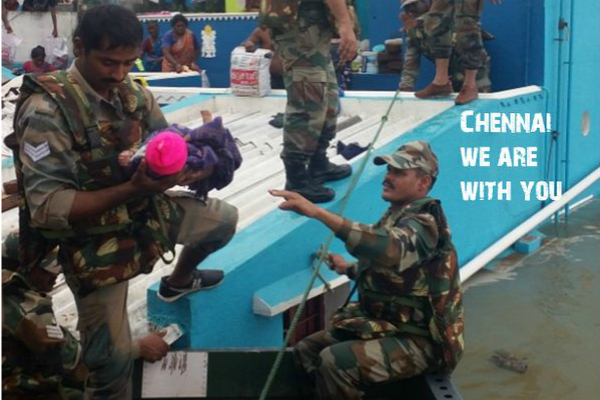 Image courtesy: dnaindia.com
While, the Indian Air Force did their fair share too. Here is a footage of the IAF rescuing a pregnant woman.
[youtube https://www.youtube.com/watch?v=i4D8dUd53AY&w=608&h=315]
Courtesy: www.hindustantimes.com
When Everyone Became a Hero
The unity of the residents of Chennai, to a large extent, helped each other. I was listening to the radio today and one of the victims said that until the floods hit, he did not know any of the neighbors. But, when the need arose, the entire neighborhood helped each other whether it was for rescue operations, providing food and supplies or for support. Images of muslims helping in temples, other religions taking refuge in mosques, opening up of halls and houses for people who lost their homes became a common sight.
The Game of Self Promotion
While the entire city, state and even the country was in action, the rulers played their part in providing relief and rescue operations. I read many comments slamming them entirely, which I think is sort of prejudiced. It isn't right to turn a blind eye to the good deeds.
But, I have to mention that using this disaster to promote a certain group symbolizes that humanity is hitting a new low. There was a lot of anger over the fact that goons were forcibly pasting stickers on the relief material supplied and carried by trucks. This was followed by the release of some hilarious sticker memes by the angry crowd. My favorite being this one:

Image courtesy – Amul.com
The Only Flaw in Us
Amidst all this, one thing that caught my eye was that, #Intolerance was still trending during the Chennai rains. The topic had begun days ago and there had been a lot of fuss over it. But this is where we have to prioritize things. Is someone's opinion more important than dying lives?
You might ask me, how will the change in trend help Chennai. I know it won't. But when intolerance is trending, it shows that there is a large population either ignorant about the Chennai rains or insensitive about it. And the best way to avoid such situations is not to gobble up whatever the media throws at us. Freedom of expression is given to everyone. It is one thing to express our opinions. But it is an entirely different thing to sleep over and cling to our opinion and forget all else.
The Ray of Hope
At the end of the day, we realized that there is no enmity between the people of different states. When a part of the population was in trouble, the rest dived to their rescue. Many came forward to take this up and they all did a wonderful job. I feel very very proud to have been born in this era and to have been a part of this youth and this is what makes me immensely happy.
Here, in Kochi, in three days' time a lot of materials were collected and sent to Chennai. The group which included the celebrities worked hand in hand for this endeavor. Every time I went to buy supplies, I noticed someone else buying them too. Thousands of unknown people were working for the same cause. I am sure it must have been the same in other places too. If in such a short span, the youth could do so much, with time and planning, we could run the country.
In short, this meme created by a great anonymous soul, sums it up:


Source – Facebook (I wish I knew the creator, who deserves an applause.)
I end this post with a prayer for those in Chennai. I pray that the clouds do not return, that the water dry up soon, the houses and vehicles get restored, that the people who are ill get well soon, that no infections or diseases spread post-flood and that this fate does not arise elsewhere.
||Lokah Samastah Sukhino Bhavanthu||