Stand Up Comedy Live – Kenny Sebastian
100 Happy Days – Day 85
Happiness is watching Stand up Comedy live
Kenny Sebastian. It hasn't been too long since I came across the name. I was browsing through FB one day, when I came across an article about his video. It revolved around how Indians had a 'paavam mode' that came on at times, specially when abroad. You can watch it here. It is barely 7 mins.
[youtube https://www.youtube.com/watch?v=9ulfoqB7cmQ&w=854&h=480]
I was on a laughter riot after which I began to dig for more videos. I kept talking to my sister about him and then we watched a couple of videos together. I wanted to watch one of his live performances and even tweeted once saying I wished he would perform in Kochi.
Later some day, I came across his tweet that said he was performing in 8 cities and that Kochi was among them. I immediately checked the site, venue, rates, date and time and realised that the performance would be from 8-10 PM at place quite far away from my house. The place is busy until 9PM, but 10 PM was too late and unsafe for women. Kochi lacks night life. This meant that someone had to accompany me. So, I put off booking the tickets until the last moment.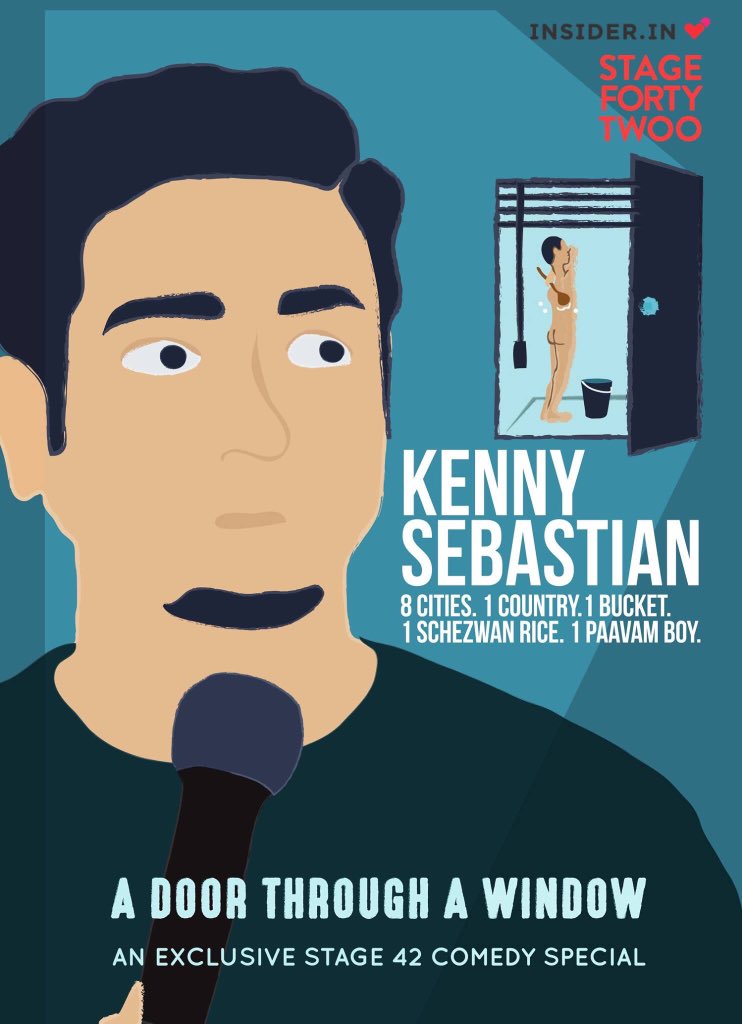 When the day approached, there was no one who could accompany me and I sort of felt bad. My folks were fine with me going out at any hour provided I had someone to accompany me. I had the freedom, but was unable to exercise it because of the society. I totally understood them.  It was one of those moments when I wished that I were a guy.
The thought made me all the more miserable. I didn't mind not having any company. I wanted to go alone. I wanted to enjoy stuff by myself. I gave it a lot of thought and then, feeling very dejected, did what most of the people do. Lament on twitter. 😛
Missing @knowkenny's show 2day as it ends late(For Kochi stds) & my family thinks I'm too dangerous to go out at that time 😛 #Heartbroken

— Ranjini S (@RanjiniSkr) February 6, 2016
I went about my moaning and moping for a while and the next time I checked my mail, I had a reply from Kenneth Sebastian himself. I hurriedly opened my twitter and to my utter disbelief, he said:

It ends at 9pm! It's from 8 to 9! Come on convince your folks! Pleezzzzzz @RanjiniSkr

— Kenny Sebastian (@knowkenny) February 6, 2016
I sat there smiling broadly for the next ten minutes. I didn't know what was more overwhelming; that the show ended at 9PM or the fact that Kenny had decided to reply. How could anyone not go for the show after receiving a tweet like that? Pleezzzzzz he had said. 😀 9PM made it easier to convince my folks, book tickets and take off. For the next two hours, I couldn't wipe that smile off my face.
After an hour of awesomeness, we were told that we could take pictures with Kenny. I was dejected because my phone was 'hospitalized' and I didn't have any with camera. I requested a bunch of girls if they could take my picture and send it to me. They agreed. I had a quick chat with Kenny, took a picture and was on my way home.
Yesterday was special in many ways:
That was the First Live Stand up comedy I attended.
It was the first time I tried so much to watch a show.
I had a celebrity replying to my tweet. (He replies to pretty much everyone.)
I ventured out alone for something. I am the kind of person who looks for company whenever I go out. The reason being, when I am alone, I feel like I'm easily spotted while I'm with someone, I sort of feel invisible. Sort of like, getting drowned in a crowd. I should learn to be comfortable alone. It is on my bucket-list 2016.
If you liked the video, do watch rest of his shows and if you want to watch a live performance, you might just get lucky. And so ended a beautiful Saturday for me. How was it for you folks? 🙂
Images from Kenny Sebastian's twitter handle.