Go Corona, Corona Go!!! Some Funny Covidiotic Moments.
Covidiot (noun) – Someone who ignores the warnings regarding public health or safety.
A person who hoards goods, denying them from their neighbors.

"Did you see that covidiot with 300 rolls of toilet paper in his basket?"

Source: Urban Dictionary
As Covid 19 majorly spread across countries, this was a new word coined as it was need of the hour! We must admit. The world has all kinds of people and India has slightly genetically modified version of all kinds of people. We have the front-line soldiers – the medics – fighting the virus. We have the police still monitoring the streets. There is a huge list of people doing their best to fight the virus. There are people like me who haven't left our homes for three weeks. There are millions of unprivileged souls suffering in the streets. There are people I had mentioned in my earlier post, doing their fair share to remain safe; drinking cow urine, alcohol, bathing in cow dung, doing the 10 seconds holding the breath test. But, we do have more!
How can the story of Pandemic be complete without emphasizing on some really interesting endeavors on the part of the people to get rid of Corona?
"Corona Go! Corona Go! Go Corona! Go Corona!"
This is minister Ramdas Athawale at a prayer meeting chanting 'Corona Go' while the people around him repeat after him. Amidst the memes and backlash that followed, there was one comment that cracked me up and left me bewildered at the same time. It said, "Why is he cheering the Coronavirus!?" I mean, I do believe in vibrations and universe listening to us, but what if the Universe decides to take it in that sense and just encourages the virus?
Anyhow, the slogan did become catchy soon. Not in the way the minister hoped, but more like a Honey Singh song; meaningless mostly and a mockery of sorts against a section of the society that is actually trying to do something helpful during these times.
Meanwhile The Prime Minister urged all Indians to acknowledge the tireless efforts of the Health workers in the country by either clapping hands or banging plates at 5 PM on 22nd Mar 2020. While many questioned the purpose of this, people left us spell-bound with their sheer covidiocy. Videos of people thronging the roads dancing and banging vessels and drums were doing the rounds after 22nd.
This was followed by the PM's next announcement in less than two weeks. This time, the instructions were simple and it really couldn't have gone wrong. On 5th Apr 2020 at 9 PM, all of us had to switch off the lights for 9 minutes and light lamps. Ahh! We are Indians and lighting lamps or candles are religiously followed in most Hindu/Christian households during evening prayers. We just need to do the same thing at 9 PM. Easy right? Nooooooooo!
While the TV channels were busy covering how the entire nation so beautifully came together in unison to switch of electric lights and light lamps, Whatsapp was having a field day sharing – come on! You can guess it! – people dancing on the streets with candles and torches, and sending out fireworks. A thatched hut in Jaipur caught fire after a stray firecracker fell on it. We are suffering from a huge case of Dennis the Menace and while the whole world is burning down you can't help but laugh at the group you're stuck with!
Oh! All of these activities did have "Go Corona! Corona Go!" in the background. Now you know why BGMs make things more fun!
By now, we had our new set of jokes ready and can't help but appreciate how close to reality this one was. The whole scenario is like a case of Big Boss. We Indians are all stuck at home and The Big Boss – in this case Modiji – appears, gives us tasks and leaves. I made one too. The Challenge given by Modiji was to light lamps. What you see above is the tiktok version. 😛 Not the best joke, but still good because it has tiktok in it!
Meanwhile, more serious plans were brewing to kill Coronavirus. Seriously! Not joking! In Bareilly, Uttar Pradesh, after asking the migrant workers to close their eyes and mouth and also of their children's, fire department officials were seen spraying disinfectants on the migrant workers. As per Bareilly's district magistrate, "The officials were asked to sanitize the buses but in their enthusiasm they sprayed the workers too." You really need one hell of an enthusiasm to be able to simply spray chemicals on people! I'd love me a bottle of that enthusiasm for my dull days. Well, needless to say, the twitterati had a field day.
We have been talking about making Coronavirus 'Go'. But now, for a minute let's not think of asking it to leave. What? But why? Well, because some artsy people are making coronavirus themed art work and selling them on Etsy! Not artwork related to coronavirus, but the virus itself! From coronavirus crochet work to plushies, apparently there is a supply of artifacts that has the face of the current apocalypse. Now let me ask the question I have feared to ask. Who's taking them home willingly?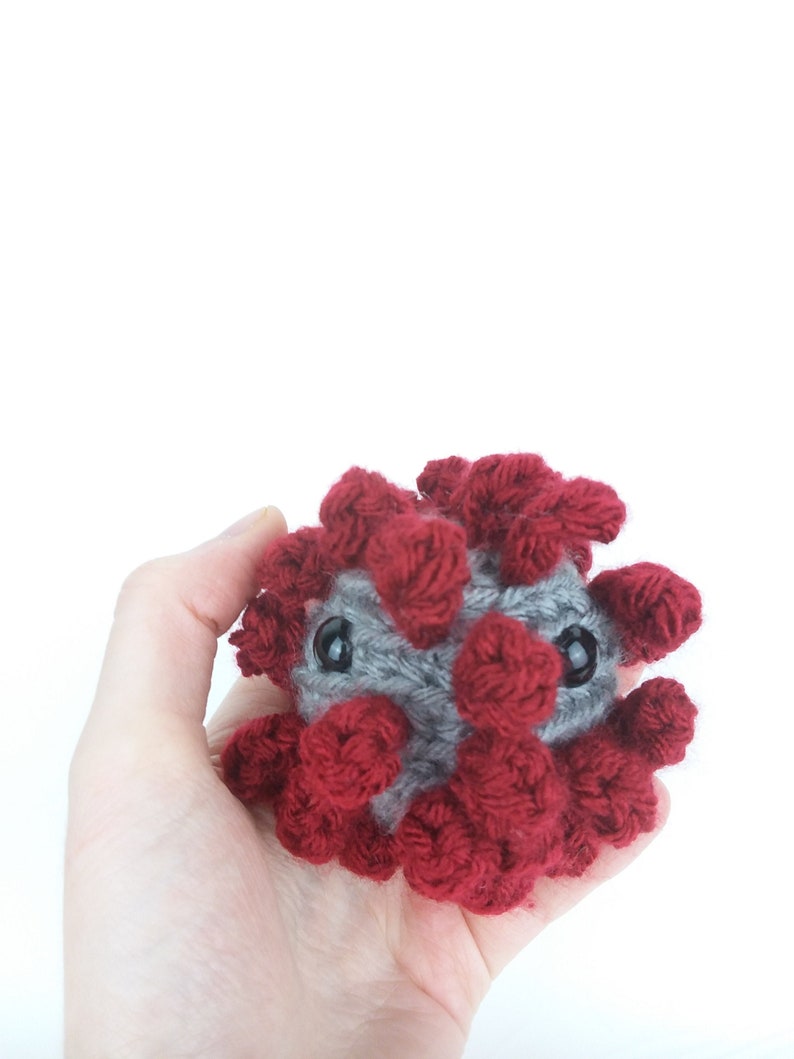 Note: Here's my opinion on PM Modi's tasks. It's like in your office, your HR asking you to wear same color clothes on a random day. I don't see the point. But I'll do it because if I don't, I'll be dampening the spirits. Besides, it is a harmless activity. That was me. I understand it is important to be together, keep up the morale, encourage the front-line soldiers yada yada, but let us look at the reality! I have a hundred questions!
Are the health care officials getting safe gears? Are they given enough care? As long as I see, mobs are attacking them, they are being shunned from their societies due to fear of infection, and in Mumbai a hospital has been shut down because the health care officials themselves have fallen sick. Why is that? Wasn't the gear good enough? Are they being tested for frequently? Is the vessel banging and lamp lighting a joke to the people? If so, is it serving the purpose of bringing positivity and encouragement or is it giving an opportunity for the people to dance in the streets? Is the cost outweighing the benefits?
Sometimes it isn't just about questioning the Government. It is also about seeking answers. The answer staring at my face right now is that we have made a big joke out of this disaster!
So tell me this. If you could get rid of the virus in either ways, will you rather bring a Coronavirus shaped keychain home or chant "Go corona! Corona Go!" throughout the day and dance?
---
This post is a part of April A2Z Challenge 2020 with Blogchatter. Every day of April, I will be publishing one post on the Theme, 'Life in the time of Coronavirus'. If you like my writings, you can also follow me on Instagram at @afew.handpickedthings.
Featured Image was a forward received on Whatsapp and so the owner is untraceable.