Role Reversal as Humans Hide and Nature Thrives
Today I saw a video of the streets of my city, Kochi, Kerala. It highlighted the main parts of the city and it empty, everywhere. You'd occasionally see a car or two wheeler, but the roads stretched into nothingness. The Oceanside, the walkways and bridges were all empty and it looked strangely beautiful to see my city that way. I wanted to go out and witness it myself. But that isn't possible right? However, we have been hearing from all over the world the stories of some others who have been enjoying the lock-downs. While the humans hide from nature, the nature is just reclaiming what is hers. Here are some adorable stories I came across:
You must have heard about the Dolphins that were sighted in the Venice's canals. Since the visitors reduced, the motorboats were put away and hence the sediments have settled and water pollutants have dropped. The water is so clean that fish can be seen in the canals.
Apparently, vibrations from moving vehicles and industrial equipments could cause the Earth's crust to move. When human activity is high, cumulatively they produce noise which reduces the seismologists' ability to hear other sounds and signals of similar frequency. In Belgium, vibrations caused by human activity have gone down by one-third since restrictions to contain Coronavirus put in place. This enables the equipments to pick up waves in the same frequency range as the noise. The facility's seismometer is sensitive to small earthquakes and it can monitor volcanic and other seismic activities. A similar fall in noise was observed by a station in Los Angeles. Source: Nature.com
My favorite have been the Penguins going on their field trip. Nothing could beat those! The Shedd Aquarium in Chicago unleashed the Penguins. They let them walk around in the public areas, look at the exhibits and clearly the Penguins look happy, curious and intrigued.Bonded Penguins Edward and Annie were taken on a tour around the aquarium and it looks nothing short of a romantic date. I could sit all day looking at them walk.
The adventure continues! 🐧🐧
This morning, Edward and Annie explored Shedd's rotunda. They are a bonded pair of rockhopper penguins, which means they are together for nesting season. Springtime is nesting season for penguins at Shedd, and this year is no different! (1/3) 👇 pic.twitter.com/VdxN3oQAfe

— Shedd Aquarium (@shedd_aquarium) March 16, 2020
4. Killer Whales Spotted! In Vancouver a pod of Whales were spotted on the Indian Arm. The group consisted of the mother, father and two babies. Jim Hanson initially ignored the sounds of whale exhaling on the water surface, but alerted by his son, he was in for a surprise; something he had never seen in 59 years of his life there! [Source: cbc.ca]
Apparently the natural world likes the economic slow down. Saw a pod of four Orca whales in Indian Arm yesterday. First time in my 59 years I have seen whales this far up the Arm. #northvan pic.twitter.com/WYoi6RrJcT

— Jim Hanson (@jimhanson_NV) March 28, 2020
5. Silka deers decided to take a stroll in Nara, Japan, wild turkeys suddenly appeared in a park in Oakland. In India, in Uttarakhand, Sambar Deers were spotted walking the streets near the Rajaji National Park. Well, it did seem normal to me. Animals near national parks shouldn't be surprising. But they would really come out onto the streets only if they are assured that they wouldn't be disturbed. Clearly, the disturbances are all sitting at home right?
Now Spotted deer herds on the road.
Sender says that it's near Rajaji National park. Wildlife really claiming their space🙏
( For some Cynical about WL reclaiming it's area on my earlier posts-This is a recent video. Effects of lockdown. Not fake😂) pic.twitter.com/zy00IewZIS

— Susanta Nanda IFS (@susantananda3) March 27, 2020
6. The Mighty Himalayas was visible from parts of Jalandhar, Punjab for the first time in decades as the lock-down paved way to less pollution. 'If you see Himalayas once, you'd want to go back again', said a friend of mine. After my trip in December, I have been craving for it like never before. So this news made me so envious. To be able to see Himalayas one fine morning from your own terrace, that would be a joy like no other.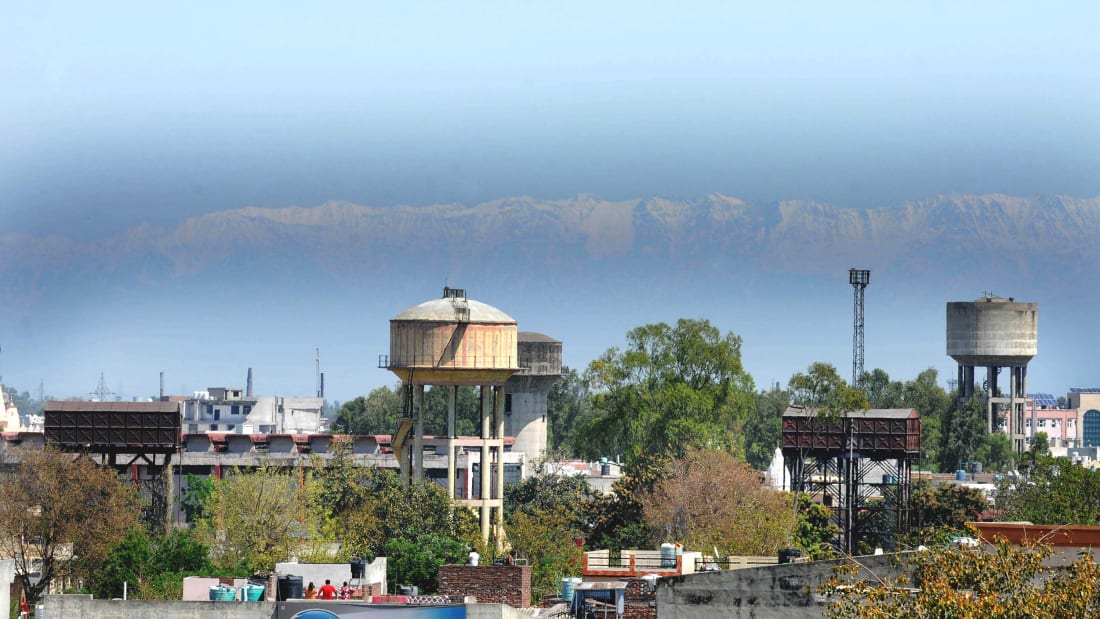 I have said this before. There is no saving the Earth for humans. If something goes wrong, nature knows how to save and mend itself. That is precisely what is happening. Nature is in the process of cleansing while sending us messages. These are the signs. I am not an environmentalist. I know I do my fair share to harm the Earth and I am trying to work on it.
Meanwhile here is my idea. It would be ideal for all of us to go on a global self quarantine for a month every year. We'll all stay with family, take things slowly, love better, stay at home and let the Earth breathe and mend herself. The economy, daily wage earners, businesses, essential services etc can be taken care of with good planning. I'm sure this will be our best contribution to Earth. What do you think?
Featured Photo by Federico Beccari on Unsplash