Final Goodbyes – When XOXOs Replace Warm Hugs and Kisses
Someone said that funerals are for the living. Ever since I read it, I couldn't think of it any other way.
Today, I spent a lot of time reading real life stories of last moments of people who died from Covid-19. When I began writing about 'The Life in the Time of coronavirus', this was one aspect I wanted to cover. Because if we have to understand and appreciate life, we need to take a glimpse at death, at least once in a while. The three stories I am about to tell you – I insist that you read them – will definitely make you appreciate the people in your lives.  And when you do, please give them a call and tell them that you love them.
Due to the rate at which the virus has been spreading, no hospital has been letting people visit their relatives once they are tested positive. Many patients spent their last moments alone in the hospitals. I remember a nurse crying in a video, saying that it was disheartening to leave the room to attend to a patient, only to come back and see another dead body. It was even worse delivering the news to their. Daughters, sons, parents, siblings, and grand-children, all of a sudden didn't know when they'll get to see their loved ones again.
I am an over-thinker. I have imagined myself in the hospital, fearful as I realize that I've been tested positive. Even more scared as I realize that if I don't make out alive, I'll perhaps never see my loved ones again. Then just lying around, waiting to get better. I also imagined a loved one being admitted in the hospital. Me, at home, helpless, wondering every moment how he/she is, fear looming over my head.  This situation is/was real for thousands of people all over the in the face of Covid-19. Right now, there is a daughter who is at home crying because she knows that she's never going to see her mother again. Must be the vivid imagination coupled with empathy, the image leaves me shaken.
*****
As 81 year old Robert Tateley was recovering from pneumonia in a nursing home, she was tested positive for Coronavirus. Her grand-daughter took a video of her mother having one last phone call conversation with her mother before she passed away.
"I love you Mom, so much okay? You're the best Mommy in the whole world. Always the Best Mumma. I love you. Alright? You have a  Goodnight, okay? I'll talk to you tomorrow. Goodnight."
You can hear voice cracking, the desperation in her voice and all the 'Love yous' she'd want to tell her mother forever.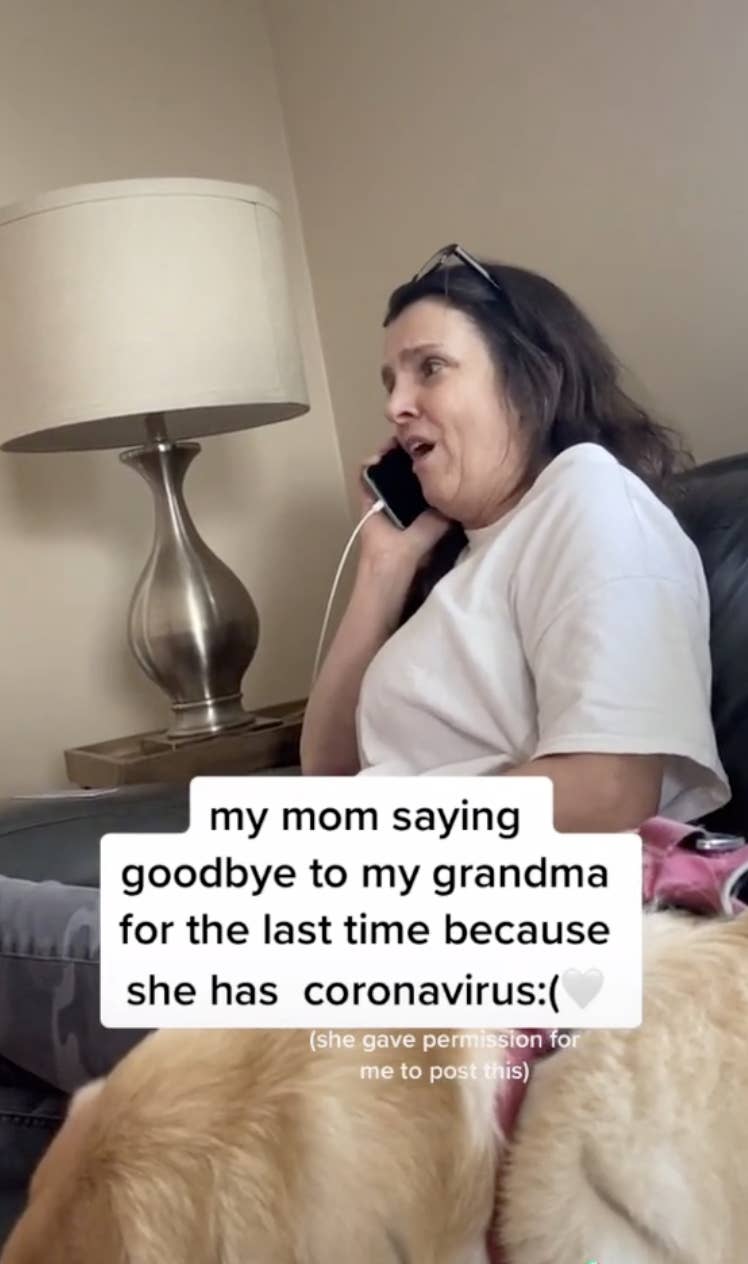 Also Read: The Plight of Nurses, Doctors and Health-workers
She's finally heard thanking 'Becca' who must be the kind nurse who held their grand-mother's hand during her last moments. This is one of the most painful videos I have ever seen.
*****
Letty Ramirez has always been with her 86 year old mother Carolina Tovar, cooking with her and taking her for her weekly dialysis. Due to breathing difficulties, Ramirez was hospitalized and in a few days, her mother followed her. They hoped that Ramirez will recover quickly. However all of a sudden she was put on a ventilator and transferred to another hospital where the doctors hoped that a better equipment could save her. She had been diagnosed with Diabetes and Kidney failure, something that hadn't been found earlier.
Their family face-timed each other and were hopeful as Tovar had always come out strong from hospitalizations before and Ramirez had a lot of life left in her. However Ramirez could only open her eyes during her next face-time with her daughter. Meanwhile Tovar was preparing to embrace death.
"I gave it my all. I am ready to go now", she told her family.
They respected her wish to be not put on a ventilator. One of her daughters negotiated her way into the hospital and called the family on FaceTime. Tovar's children and grand-children spent the night talking to her as she slipped into her final sleep. Within a few hours, they got a call saying Ramirez's situation wasn't improving. Her toes were black. Anymore time on the ventilator wouldn't help her and so the family decided to remover her from the machine. She died within a few minutes.
The inseparable mother and daughter died from COVID-19, hours apart in separate hospitals. The family couldn't physically be present next to two loving mothers who died due to Coronavirus and they couldn't console each other either.
*****
Major Michelle Bennett and her siblings had to say goodbye to their mother, Carolann Gann, from a distance as she was tested positive for Coronavirus. They didn't think they could talk to her again. However, as nurse Tatyana knew that Gann would be dying soon, she wore her protective gear and called Gann's family so that they could say their final Goodbyes.
"She put it right up to my mother's face, and I could tell my mom I loved her and how much I was going to miss her," Bennett said.
"Can you please hold her hand? Can you rub her head? Can you pretend like we're there with her?"
The Nurse who was also crying said, "She will not be alone. We will stay with her to the end."
Within an hour after the call, Gann died.
It is difficult not being able to say 'goodbye' or 'I love You' to your loved ones before they die. My heart goes out to the people who didn't even get the phone call or the FaceTime that these people got. It is also difficult being the health workers who see their patients suffering. It is difficult to do what they do, ensuring that all the patients are attended to while putting themselves and their loved ones at risk. Amidst this, nurses like Tatyana ensure that their patients have an easy passage to their after-life, that the patients relatives get a final chance to say Goodbye. 
What did we do to deserve nurses like Tatyana and Becca? I know that in this internet era hugs and kisses have become Os and Xs. But all I ask universe right now is that no one should have to say their final goodbyes through virtual XOXOs instead of real, warm hugs. Love deserves much more than that. While all I can do is pray to the Universe, will you go make that phone call you promised me?
Also Read: The Plight of Nurses, Doctors and Health-workers
Featured Photo by engin akyurt on Unsplash