Why You Should Watch Sufiyum Sujathayam: Movie Review
Sufiyum Sujathayum, the first Malayalam movie to be released in an OTT platform (Amazon Prime), is the story of a speech impaired Hindu girl, Sujatha and a Sufi saint named Sufi. A story around Star crossed lovers is not a new concept in South Indian Cinema. In the recent past Ennu Ninte Moideen (Malayalam) and 96 (Tamil) swept away all the awards for the same and it is difficult to make movies revolving around star crossed lovers that out-shine these movies. I am a sucker for slow romance. I have the patience to watch a romantic movie if it has enigmatic visuals, a good storyline and a solid closure. Sufiyum Sujathayum promises all the three.
Debut actor, Dev Mohan has all the charm and enigma in the world that his character Sufi requires, and Aditi Rao Hydari is poetry in motion. They have beautifully depicted the dilemma that each character goes through, especially Rajeev Nair who's stuck in an unsatisfactory marriage and is trying his best to turn things around. While the main characters didn't have much scope for performances, Siddique and Jayasoorya have yet again proved their worth as seasoned actors.
The cinematography, the choice of location, and the casting couldn't have been better. They have managed to get the right combination of nostalgia and mysticism to everything, so much so that you get hooked to the visuals on the screen. The Jinn mosque, Sujatha's home and the locale that is rich in culture and greenery, evoke so much nostalgia for the average Malayali.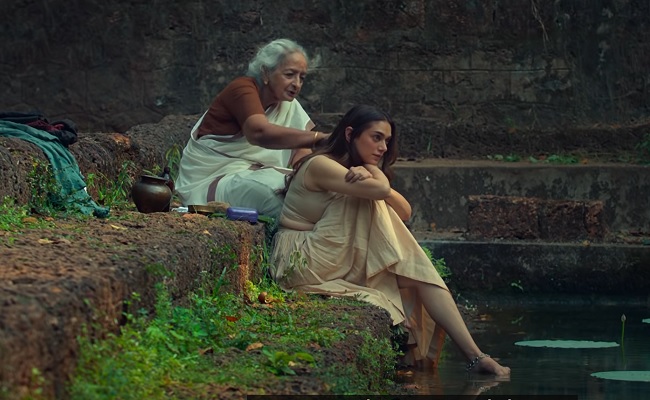 'Apparently there is a new Malayalam movie with a soulful Azaan' was the way I was introduced to Sufiyum Sujathayum. Ofcourse! A movie about a Sufi is incomplete without the music. M Jayachandran has worked his magic through the Azaan, all the songs and the BGM. The music is also important to the storyline, as the Azaan sung by Sufi is one of the reasons why Sujatha is drawn to him. In Sufiyum Sujathayum, if the visuals contribute to the body of the movie, the music is the soul.
For movie-goers like me who love slow romance, enigmatic visuals and soulful music, a simple story would suffice, as it is rich in other aspects. Sufiyum Sujathayum, albeit very slow, has a beautiful story line with a perfect closure. These aspects made it a good movie worth watching once. But the theme had more potential. While everything was perfect, a richer story line would have taken it to a whole new level. To start with, they could have delved deeper into Sufism and into the concept of love inter-laced with spirituality. It is important to note the difference between a good story and a rich story here. It is a slow paced good story that had the potential to become a rich story irrespective of the pace.
In spite of this, the movie lingered in my mind for a couple of days. Here's why: Sujatha isn't just attracted to the man that Sufi is. She is attracted to his passion, and his way of life. She didn't come across him by chance. Instead, he was thrust into her life all at once so much so that she woke up every day listening to his Azaan. Sujatha, being an avid dancer became one with him when she danced to his Azaan. As for Sufi, his first love was his Sufi way of life and it is into this lifestyle of his, that he decides to invite Sujatha. His Japamala (Rosary) is of great significance in the movie as it is a priced possession that he doesn't wish to part with even in his death. He gives it to Sujatha as Mehr (wealth for the bride) and this act shows his deep love for Sujatha.
Conclusion
Sufiyum Sujathayam deserves more attention than it is currently receiving. The story, the cinematography, the acting, and the music are all beautiful. When you look at the closure the story gets, you realize that the makers have brought something different on the table. The movie isn't flawless. There are minor flaws. In the script for instance, the term 'Love Jihad' is carelessly included for no reason. It definitely had more potential, but the lack of utilizing it doesn't ruin the experience. If you love slow paced romance with a little mysticism, Sufiyum Sujathayum is definitely worth a watch.
So, will you be watching the movie after reading my review? If you already did, what do you think of the movie?
Also Read Reviews of Similar Movies:
96 The Movie Depicts Love and Life As It Is
Ennu Ninte Moideen – A Heart Rending Tale of Love
Pssst! I have started uploading the songs I sing on YouTube. Here is the song 'Vaathikkalu Vellaripravu' from the movie Sufiyum Sujathayum sung by me. Please do listen and if you like it, do subscribe to listen to more.